Call or Text for Air Conditioning Repair
480-343-2530
HVAC News & Commentary


What's Your Opinion?



(We bring you the HVAC news, you give us your 2 cents worth.) 
What Do You Think About This Article?
What's your opinion on this subject?
What Other Visitors Have Shared
Click below to see contributions from other visitors to this page...

An HVAC Technician Not rated yet
It's true that when the hot weather sets in.........air conditioners break and people are desperate and in a rush to get it fixed. But the whole thing …
---
HVAC News

Beware of This Dirty Little Trick From Shady Air Conditioning Contractors
I was called out to a Phoenix, Arizona residential home last week to perform an air conditioning inspection.  The homeowner stated that she wanted her air conditioner inspected for the summer and that over the winter it didn't do very well during the colder months.......she stated that she understood that her heat pump would periodically blow cold air during the winter, but that it was doing it for an abnormally long period of time.
I agreed that sometimes in the winter the outdoor coil freezes and initiates defrost, and can be a temporary discomfort for the homeowner without backup auxiliary heat strips and that I would check the heating side of the unit as well.  
The air conditioner checked out fine, but this is what I found with the heating side: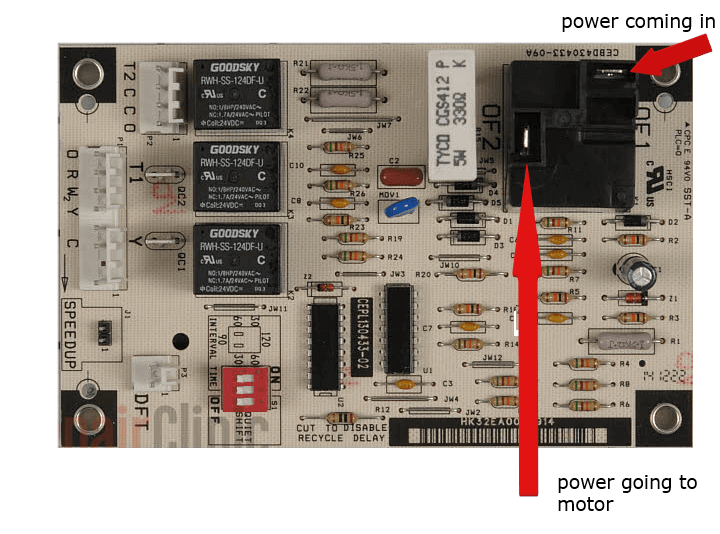 Defrost Control Board
The defrost control board shown in the picture above has power coming in and power going out to the outdoor motor through this built in relay.
During the defrost mode, this relay stops the power from going to the outdoor motor in order to speed up the defrost cycle.
However, the previous air conditioning company that serviced this unit took a 2-pin connector (shown below) and connected it to the OF2 terminal (the one that powers the outdoor motor), and connected both the incoming power and the motor lead to this 2-pin connector, essentially bypassing the relay altogether.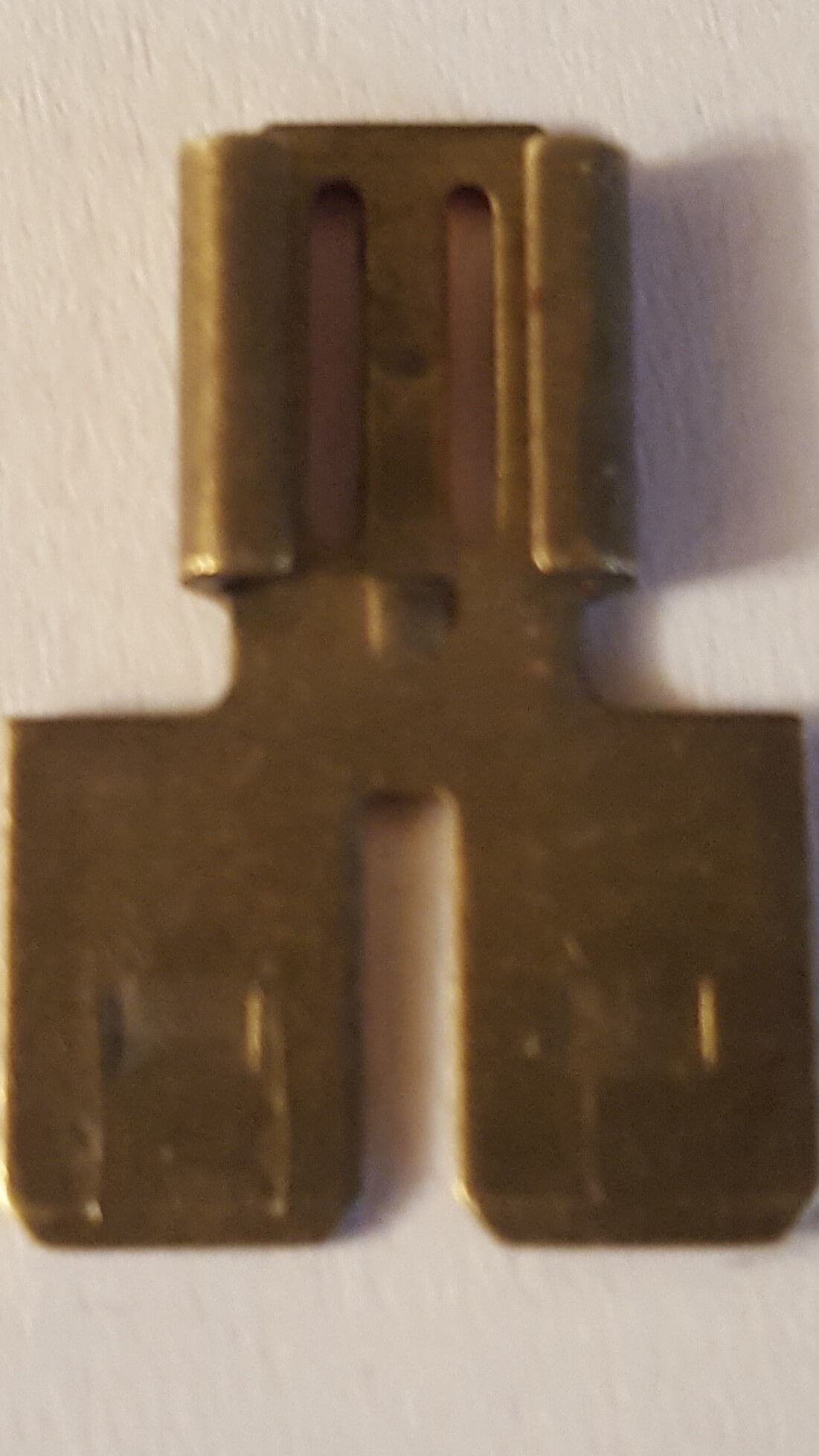 2-Pin Connector
The result was that when the unit would initiate defrost, the outdoor motor would continue to run (when it shouldn't) causing defrost to take much longer than it would normally and the comfort of the homeowner to suffer.
I suspect that had this homeowner called the same a/c company out to diagnose the problem, they probably would have sold her a new control board.
These shady contractors with their dirty scams make me shake my head in disbelief. 
If you need an honest air conditioning guy and you live in the Phoenix metro area, give me a call at 480-343-2530
What do you think of this article? 
Scroll to the top of this page and share your opinion.
---
HVAC News
Do This Before Calling Your Air Conditioning Repair Guy
If your AC unit broke, your home's temperature could be a hundred plus degrees.  But before you call a repairman, there's some things you can do before you spend the cash.......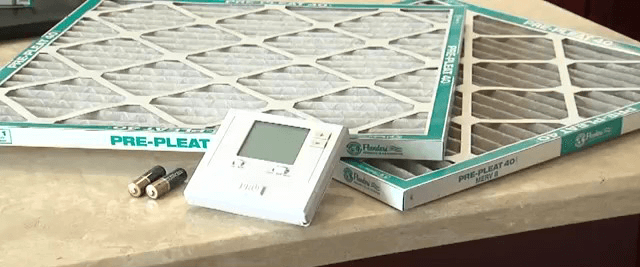 First thing you want to do is look at the thermostat and make sure that you actually see the display on.  If you don't have a display, there's a possibility that the batteries in the thermostat (if your thermostat has batteries, as some do not) have gone bad.  It's good practice to replace the batteries every spring.
Sometimes the unit is running and you can hear it but you just don't seem to get enough air flow or it just doesn't seem to get cold enough...  A lot of time it's just because you haven't changed your air filter(s).  Filters should be changed every month (more or less often depending on your environment and the usage of your ac unit)
Dirty air filters reduces efficiencies causing longer run times which leads to higher utility bills (upwards of 5 to 10 percent), lower air flow, and can lead to damage or pre-mature failure of your compressor.  (which happens to be one of the most expensive parts in an air conditioner to replace). 
If for some reason when you turn the thermostat back on and nothings operating, then you may have something more serious going on you should to go to your electrical panel.

You want to make sure that all of your breakers are in the on position.  Check your air conditioner breaker.  If it's tripped it would normally be in the mid position or all the way off.  Turn it all the way off and then turn it all the way back on.
Normally, once the breakers trip and even though you might have been able to get your ac unit back on, you still want to call a service technician because the breaker tripped for a reason.
---
So to re-cap, the three things that a homeowner can do themselves when experiencing air conditioning problems are:
Thermostat:  Make sure that the display is on and the batteries are good or new.
Air Filter:  Make sure that you've have a clean filter.
Operation:  Make sure the systems operating, if not check your breakers and make sure they're on.
We hope this helps to save you a possible service call for something that you could have simply fixed yourself and we hope your AC unit doesn't break.
However, if this doesn't resolve your problem and you reside in Mesa, Arizona or surrounding cities....Give us a call at 480-343-2530 (we'd be glad to help:), or visit our Advanced Troubleshooting page.  
For repairs visit https://www.air-conditioning-arizona.com/mesa-air-conditioning.html
What do you think of this article? 
Scroll to the top of this page and share your opinion.
---
HVAC News


How to Maintain
Your Evaporative Cooler
It seems that many of us do very little to maintain the one thing at our house that keeps us comfortable.  Today we're going to talk about maintenance on your evaporative cooler.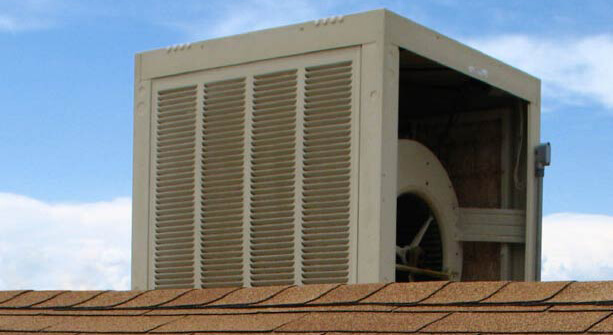 Homeowners always ask me the question... "what kind of maintenance does an evaporative cooler need?"
In my opinion, evaporative coolers (also known as swamp coolers) need twice a year service.  The most important service of course is your spring time service where your getting it ready for summer use.
Another very very important service is your winterizing of the system.  This is when the system is shut down for the winter because you don't want to leave water in your system for several months without being used causing corrosion, rust, mold, mildew, and the bursting of pipes during a freeze.
Spring Service:
To be safe, always shut the power off to your cooler prior to servicing.  You can do this by simply unplugging the motor and water pump from their outlets and/or turn the unit off at the breaker.

Turn the coolers water valve on.

Remove your pads and either clean them or buy replacements.

While your pads are still removed from the unit, it's a good time to clean and drain the water pan, re-install the drain plug, and refill the pan with water.  (checking proper float valve operation at end of water fill)  If the float doesn't completely turn off after filling pan it should be replaced.

Turn your water pump on and check for proper water flow through your spiders or water distribution pipe(s) depending on what type of cooler you have.  Clean as necessary to remove any hard water deposits that may be preventing water from flowing to your pads.  Also, if you have a bleeder line coming from your water pump, make sure you put it down your overflow pipe if you want to continually recycle old hard water for fresh water.  Some coolers have a purge pump for this purpose.

Put a few drops of zoom spout oil at the squirrel cage bearings and test to see if there's any play in the bearings....If there is play, bearings should be replaced.

Put a few drops of zoom spout oil at the motor bearings (if your motor has oil service ports)

Grease your blower wheel shaft.

Check to see that you have a good solid belt installed between the squirrel cage pulley and motor pulley and/or that it is properly adjusted with about a 1/2 inch to 1 inch of play.  While your at it, check to make sure the blower pulley bolt is tightly secured to the shaft.

Put your unit back together, turn it on and check for any water leaks.
Winterize:
Turn power to unit off.

Turn water valve to the off position

Drain water from water lines to prevent any possible freezes that could burst the water lines and drain the water pan to prevent corrosion, rust, mold, and mildew.

Remove the belt.

Oil the motor and squirrel cage bearings.

Put a cooler cover on to prevent cold air from entering and to keep the critters out.
Evaporative coolers tend to need constant maintenance, mainly due to the constant hard water deposits that accumulate throughout the system.  By performing the regular maintenance suggestions above, you will receive better performance with less headaches throughout the cooling season, as well a system that lasts much longer before needing replacement.
To find more helpful tips and tricks for Swamp Coolers, visit https://www.air-conditioning-arizona.com/swamp-cooler-maintenance.html
What do you think of this article? 
Scroll to the top of this page and share your opinion.
---
HVAC News
Mail trucks in Arizona

Do not have any air conditioning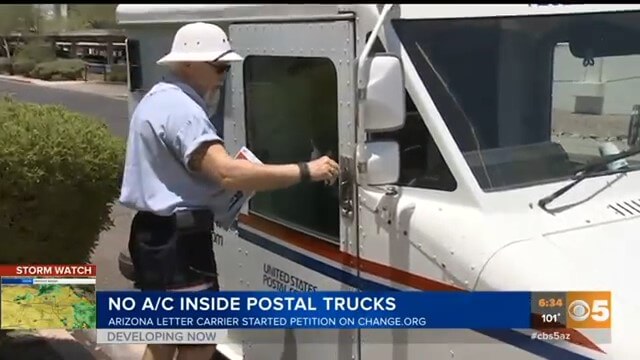 It might not be common knowledge, but most mail trucks in Arizona do not have any air conditioning.  So can you imagine that, especially in our valley heat?  However, there is a grassroots efforts to change that.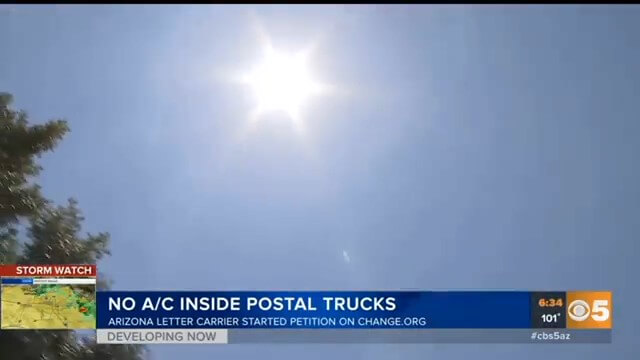 Many of us have heard the letter carriers creed in one form or another... Neither rain, snow, sleet, or hail will keep them from their rounds.
But how about the heat?  That's the issue for letter carriers during the summer in Arizona and other states with high summer temps and humidity.
It's an issue that letter carriers have brought to their union representatives.  It's unclear if there is any negotiation on the table regarding the issue.
A spokesman for the US postal service said all vehicles purchased since 2003 do have air conditioning, but he did not know what percentage of the fleet these made up.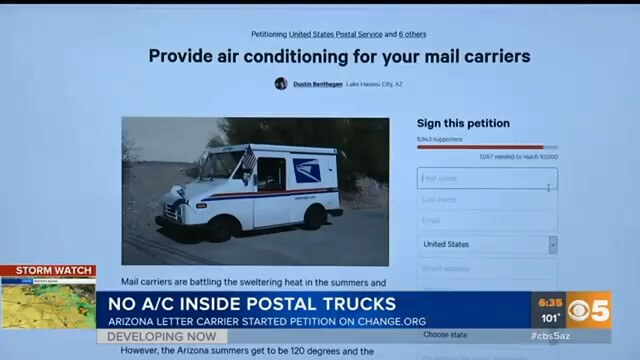 A recently launched change dot org petition hopes to bring the issue to light.  It was started by an Arizona letter carrier and has nearly nine thousand signatures so far.
What do you think of this article? 
Scroll to the top of this page and share your opinion.
---
HVAC News
When the hot weather sets in, repair men say people get desperate.
The key to having your air conditioner there when you need is getting the right system and taking care of it.

Consumer reports surveyed more than sixteen thousand subscribers to find out which brands you can count on.  For conventional systems popular in our area, American standard is more reliable than other brands while Amanas are more likely to break.  Consumer Reports estimates about thirty percent are likely to break within five years.
The responsibility is on you too, even the most reliable air conditioning system will let you down if you don't maintain it.
Check and clean filters monthly.
Clear debris and leaves from around the condenser coils and check for blockages in the drain pipe, also look over insulation around ducts. Bolstering insulation and ceiling leaks can help prevent as much as a forty percent energy loss.
And once a year bring in a licensed professional to check things like refrigerant and mechanical components.
What do you think of this article? 
Scroll to the top of this page and share your opinion.
---
A/C Repairs
Buyer Beware
What do you think of this video? 
Scroll to the top of this page and share your opinion.
---
Home - HVAC News
A/C Handyman - 104 S Pomeroy, Mesa, AZ. 85210

Copyright© 2008- All Rights Reserved