Call or Text for Air Conditioning Repair
480-343-2530
Air Conditioning


Testimonials & Reviews


Air Conditioning testimonials are powerful. They create believability, credibility, and a sense of security for our first time customers.
It's one thing to toot your own horn. All A/C Companies sing praises about their services, including us here at A/C Handyman...
Because of this, their is an inherent disbelief in any marketing message. But when other people, who have nothing to gain from our success, say good things about us... Your believability in us and our marketing message shoots skyward.
That's why we've included these Air Conditioning testimonials. To show you that we're not the only ones... tooting our horns.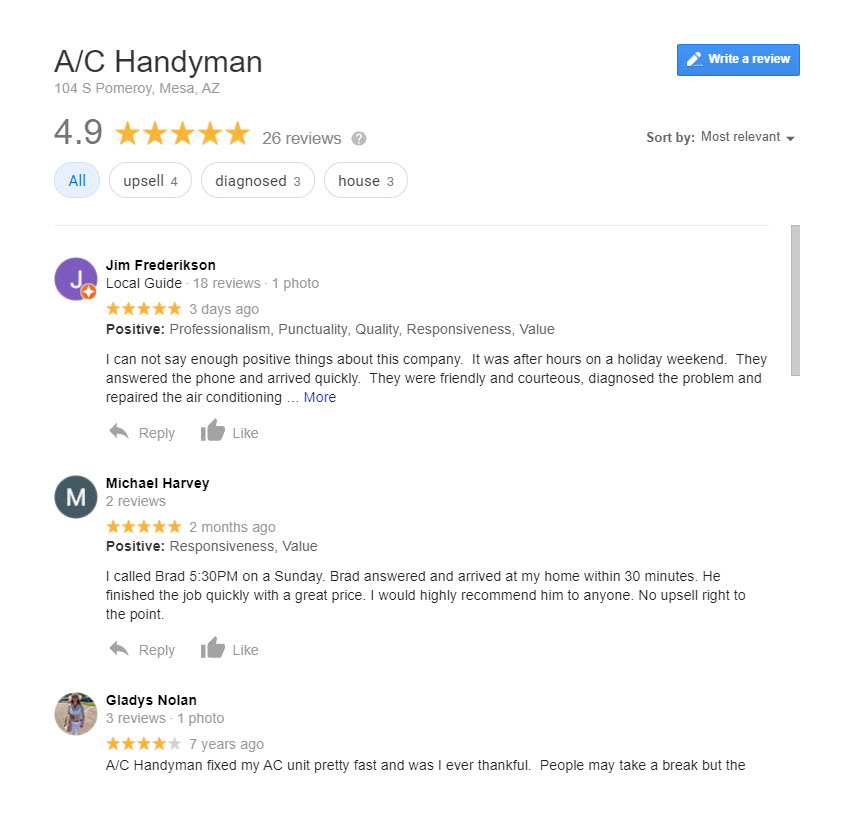 Air Conditioning Testimonials
---
* Highly recommended - I have owned rental property in AZ for years with many a/c problems. A/C Handyman was far and away my best experience w a/c repair. They were on-time, efficient, fast and very affordable and I would highly recommend them to anyone!
Mike Miller
Scottsdale, Arizona
---
* Very Prompt, Honest & Affordable - Upon a referal, A/C Handyman took care of my problem. He was honest and very affordable and recommend him to anybody.
Daniel Fredrick
Queen Creek, Arizona
---
* Excellent service - I had an excellent experience with A/C Handyman. I live out of state; A/C Handyman was a huge help!
Sandhu Harpreet
Phoenix, AZ
---
More Air Conditioning


Testimonials | Reviews

---
* Best Air conditioner Man In Town - Brad, let me commend you for excellent service and outstanding integrity. Not only did you repair my air conditioner after I was told by a previous company that ...it was beyond repair... but you repaired it at a reasonable price. You have restored my faith, there are reputable companies out there after all. Thank you. I have and will recommend you to all my family and friends.
Tess Duplisea
Mesa, Arizona
---
* On short notice: (same day) - We used Brad for our cooling problems. We found him to be Honest, Reasonable, and Reliable. We would highly recommend him and his superior work.
Hawgs N Dawgs Restaurant
Gold Canyon, Arizona
---
* Reliable Friendly A/C Help - I have had the pleasure of using A/C Handyman twice now once for my A/C and once for my Heater. Bradley was able to fit into my schedule (on a Sunday), Showed up on time, was friendly, Patient and clean. I appricated everything he was able to do for me. I would highly recommend him.
Candace Allen
Peoria, AZ
---
Air Conditioning Testimonials Cont'd

---
* Hot summer day 2008 - Last summer my house A/C was not cooling enough as the summer got hotter, with some help from a friend that we concluded it need more coolant, I picked the A/C Handyman from Craig List, Bradley got my A/C running cool again for a very reasonable price and gave me a lots of valuable lessons on how to maintain my A/C system. Thank you for your honesty and professionalism.
Tar Workneh
Chandler, Arizona
---
* Good A/C Guy - Found Brad online, He actually answered his phone. He was on time and professional. Fair price and good work.
Steve Walker
Mesa, Arizona
---
* GREAT SERVICE!! - Great service would refer him to all my clients and friends.

Roque Hatch
Hatch Pest Control
480-266-5159
Scottsdale, AZ
---
Air Conditioning


Testimonials | Reviews

---
* It's hard to believe... but it is true! - A/C Handyman offered the best service I've known. Honest, professional, and personable. He told it like it was and fixed it, and cleaned up after himself! So grateful to get the A/C working! I would absolutely recommend him to my friends and neighbors. He even sent us a Christmas card. You can't get better than that. Thank you, Bradley.
Alicia Lombardo
Scottsdale, AZ
---
* Best in Town - I Called Brad of AC Handyman last summer and he came out right away and repaired the air conditioner and then he even looked at my pool pump got a new part came back the next morning installed it and now both units work great. He's very professional, helpful and reasonable I wouldn't deal with anybody but him.
Sincerely Derek Dale
Queen Creek AZ
---
* DO YOURSELF A FAVOR AND CALL A/C HANDYMAN FIRST!!! -  I wish I could leave Brad a TEN star rating! If you are having a/c issues, do yourself a favor and call him FIRST ... you will NOT be disappointed! He FIXED our problem instead of REPLACING it ~ literally saving us thousands on a new unit that we were being advised was needed! Can't recommend him enough!!!
Neal & Patty Bouma
Mesa, AZ
---
10,000 + Delighted Customers Served!
A/C Handyman
Air Conditioning & Heating
Repair, Service & Maintenance
104 S Pomeroy
Mesa, Arizona 85210

Open 7 Days a Week, 5am to 7pm
Call Now: 480-343-2530
Types of systems we service: Air Conditioner, Heat Pump, Gas Heating, Furnace, and Electric Heat.
Brands we service: All major brands including: Mastercool, Trane, Amana, Ruud, Goodman, Carrier, York, Goettl, Payne, Lennox, Rheem, Bryant, Heil, Kenmore, and Coleman.

Dear Customer,
We would like to thank you for putting your trust in A/C Handyman to perform your air conditioning service and repair work.
Could we ask you to jot down a few words about your experience with our company, so that we can use what you say in our marketing material?
You would be helping us tremendously in our marketing efforts.
You might want to include specifics such as names, positive incidents, and how you feel today about your air conditioning repair or service.
Thank you so much for your help and for being a great customer.
Cordially yours,
A/C Handyman
Bradley Stansbury
Return from Air Conditioning testimonials to Home Page
A/C Handyman - 104 S Pomeroy, Mesa, AZ. 85210

Copyright© 2008- All Rights Reserved